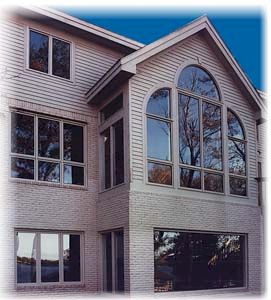 We offer a full line of wood windows and patio doors with primed or aluminum clad exteriors. Our products are sold nationally by independent distributors with whom we deal directly. Those dealers, in turn, deal directly with the contractor, architect or home owner.
The range of standard sizes and mull configurations provide a Lincoln window that is "just right" for almost any application. And, of course, we custom size our standard windows as well as create your design by drawing (with minimal limitations, of course).
The list of options and accessories available on Lincoln windows presents further opportunities for you to be as selective as you would be with your furniture and drapery fabric. Your personal space will only be made more comfortable and more beautiful to the eye of the beholder with your use of Lincoln Windows.
Now carrying Masonite Fiberglass Entry Doors!